20110622 - Up and bfast done so it must be time for a flying experiment!
After several launches me mounted up in the car and headed north. Our first stop was one of the World's Smallest churches.
Further north and we stopped in Petoskey to look along the shore for some Petoskey stones, but it was a bit too chilly and no luck :-( Back on the road and up and in to the clouds on the Mackinac Bridge that is currently the third longest suspension bridge in the world.
Now over the bridge we have another hour to go... Finally after 3.5 hours in the car we arrive in Sault Ste. Marie and the Soo Locks.
It was really cool and I loved it, but not sure the boys got the whole concept, and the next boat was not due until 7pm; we weren't hanging around that long... Across the street and into an ice cream shop for huge cones (my version of diner :-)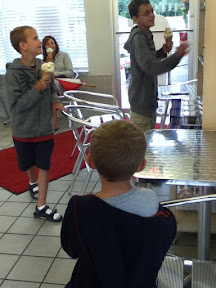 Down the block and the smell and sight of the people in the store pouring out a kettle of boiling fudge caught our attention. In we went and bought close to 300 pounds of fudge (second course of dinner ;-)
Up the road to a lakeside park where the boys got to play
and we all put our feet in Lake Superior.
Back on the road on the return trip we made a stop to visit Paul Bunyan and Babe at Castle Rock. If you look close in top right you can see the top of Castle Rock.
We then all climb to the top of Castle Rock. What a climb! L was a bit shaky and had to get down, G stayed with her and helped her by holding her hand. In true Winger Family vs Spectacular Views, the fog wins AGAIN!!! :-(
Across the road and to a small park on the shore of Lake Huron. DJ&I went into the water.
Back over the Mackinac Bridge where we found a lighthouse.
Further south through Petoskey and finally to the resort where DJ&I went and put our feet in Lake Michigan.
That is 3 Great Lakes in 1 day, a bit too long in the car though...
A quick dinner and down to the pool for our nightly swim. I read to the boys about Paul Bunyan and Babe and off to sleep.