20110611 - Nice late start on a beautiful day. We all got fed and dressed and then took a bike ride down to Creekside. There were events going on and we had a nice walk by the creek and the boys got to so a scavenger hunt and a jump-o-round thingy. Home and D mowed the yard while G&I planted more seeds in the tree line and J made a harp.!.!.!??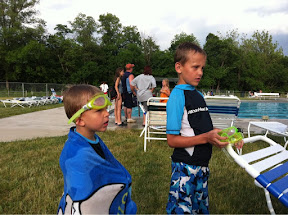 The D went to the pool with a buddy and JG&I headed out for some fun/errands. We stopped at the ball fields to see D's coach from last year and his dad; it was good to see them. Then we hit Home Depot for some light bulbs and a bathroom break. On to Blockbuster and McDonald's. As we ate and drove, I took us on a drive to try and did a warehouse to buy. After J&G had enough of warehouse shopping we hit the pool to cool off.
We grabbed a snack on the way home of sweet tea, fried pickles and chicken wings. He and L&D had ingredients for s'mores. Sober had an extra treat. About 9'the guys from the Mastermind Garage started rolling in. It was a good meeting by fire and lantern light. After the guys left my garage door cables decided they would pop off the spindles... an hour later i got the garage door down... Now sitting by the fire listening to the bug zapper drinking a beer; what could better?