20110618 - All up in the am, excited and ready to go! LJ&G loaded up in the car and D&I bug bombed the house. First stop McD's for bfast. Then on to Bellfontaine to see our first to amazing sites: the first concrete street in the USA
and the shortest street in the world.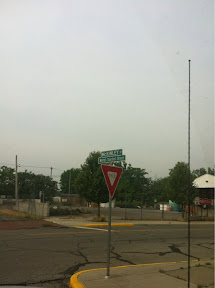 Back on the road to Wapokaneta to see two more fantastic sites: the Temple of Tolerance
and the Armstrong Air and Space Museum
Further up the road to Lima OH where we tried to go see a giant muffler man who must have gotten up and walked away and the Museum of Things People have Swallowed, but it wasn't open yet so onward across the Indiana boarder to Fort Wayne and to two more hot spots; the grave of Johnny Appleseed
and the world's largest bowling pin.
Then for the last leg of the trip up to Marshall MI. Once there we found a huge playground and tried to find a geocache.
Then a local toy store where G found the ultimate toy for him: a little set of plastic baseball players!
We found a local driven-in, the Hi-Lite, and had hot dogs, fried mushrooms and homemade rootbeer hanging off the car window .
Back to the hotel for a quick baseball game.
Then time for swimming and removing the last ounces of energy from the boys. All to bed and ready for day 2!