20110619 - Boys up at 6am :-o
We headed down to breakfast in shifts an got our fill. On the road but past our first couple planned stops because it was too early (YAWN!). There was a public fountain in Kalamazoo of a white settler beating an indian :-o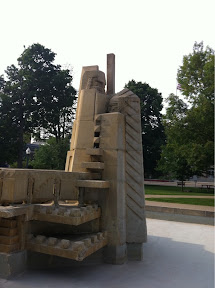 On the road into Gran Rapids to see the World's Largest flying pig, can you see my family sitting on the bench under the pig?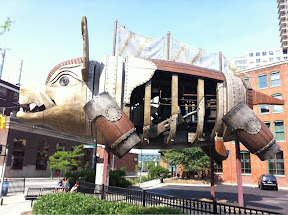 Across town a bit to see a 100 foot long sea monster!
Back across Grand Rapids to the Meijer Gardens to see a statue Leonardo da Vinci designed but couldn't build in his day. It was a magnificent huge bronze horse (trampling my boys ;-)
Then just a bit north of Grand Rapids J tried to eat the World's Largest Apple.
Time for lunch and up the road to eat at Rosie's. Rosie's is an old diner where the food network showcased their French-toast (D had it, it was AWESOME!!!). I had an olive burger, YUM. The real treat was behind the restaurant; a food themed put put golf coarse. G was in heaven :-)
Back on the road and some rest time for the boys. That is until we hit Paris MI and found the Eiffel Tower!
In the same park was an 8 foot tall Indian statue
And some trout ponds, very cool!
On to the hotel and got checked in. We got the car unloaded and hit the groceries. On the way back to the room we checked out the town and stumbled on to the World's Largest pie tin.
Back to the room and has subs to eat on the balcony.
After dinner we went down to the cold beach, then quick into the warm pool. All boys exhausted and to bed without a peep. L&I up going through ads to plan the week.