20110621 - Up and I was responsible (or as L says, irresponsible) for bfast. The boys had sausage, waffles, cheesy pringles and cookies and cream ice cream :-)
Then we headed out. Our first stop was a run past a put put place to get the hours and see the fun we will have on a day its not raining :-( On to a beach store with a giant bear to get G some new goggles. Down the road to a Army Surplus store where we got some survival bracelets. Next was 'Lucky Jack's'. Here DJ&I played laser tag , G chickened out. We had a BLAST!!!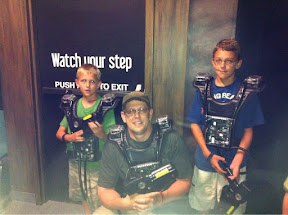 L&G went and played some video games while D&J tried a laser maze, very cool.
Back downtown for quite possibly the best burger I have ever had at Bubba's. After our fantastic lunch we went back to one of yesterday's you store visits so D could get a yo-yo like J got. Then to a magic shop that was closed yesterday and everyone got a cool new magic trick. G was walking down the sidewalk turning people into animals with his new magic wand :-) A stop at the hobby shop from yesterday to replace the balsa wood plane of J's I sat on last night :-o All our shopping done we started some exploring and found a really cool big playset. Thank goodness the playground had a bathroom as all the boys nearly exploded...
With that out of the way... We headed up the peninsula at Travis City. It was a nice drive and we saw lots of neat houses, vineyards, cherry orchards and a lighthouse. The Mission Point lighthouse was pretty short, but interesting.
We took a hike out along a rock outcrop to a large pile of rocks
where there was the first geocache we could find thus far on vacation.
North another 100 feet to the very tip of the peninsula where we reach the 45th parallel, exactly halfway between the equator and the north poll!
Back down the peninsula and back to the resort. The boys all tried out their yo-yo's, magic tricks and ran crazy. We had dinner and them down to the pool for some fun. Back to the room, picking up the laundry on the way. We had an ice-cream snack and watched the rest of Jaws 2. All boys to bed.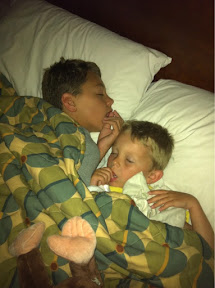 L&i up watching 'Amish on Break'.