100919 - Up and worked on L's Google Apps, then down to the barn. Gpa
W, D&I walked around and inspected the barns and talked about rehab projects. Then we all headed down to a restaurant made from a train and rail cars. It was pretty cool.
Drove home and the D&I took J to get his soccer pic.
Home and D&I worked on his Knight report. Dinner and then all boys outside for some monkey in the middle.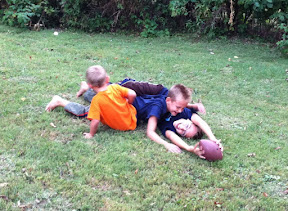 Finished up the night with 'The Princess and the Frog'. All boys to bed and L&I planning the week.