101224 + Up and around. Called a couple long distant friends to wish them Merry Christmas. Then all ready and over to the Cole's for a Christmas eve lunch and pre visit from Santa with the Kraft side of the family.
After the kids got there presents everyone headed out. We stopped by the house and let Lilly out, then off to church.
G&I saved some seats up front and soon Gma&paW showed up, then Gma&paB and the Coles. Then a couple shepherds I know were in front of me singing!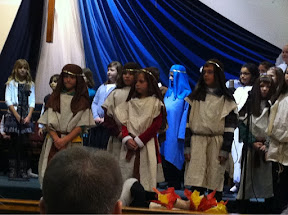 The boys did a fine job and the program and service were nice. I did get a bit nervous when my boys participated in the candle lighting :-o
Finally back home for a nice dinner with Gma&paW. The boys opened a couple of things from them, played a bit them cleaned up and off to bed. L&I watched 'Salt' and I heard something upstairs... I went up and Santa had snuck in while we were watching the movie.