101113 + Up early and out to the park with D&J. We met other Knights and Pages for early morning lessons: how to enter a room, how to shake hands, things NOT to do around girls, how to tie a tie, how to answer the phone. The boys had a lot of fun and hopefully learned something...
Then the whole group went to McDonalds for breakfast.
Home and Scott and Troy over. L gave Lilly a haircut and bath, Scott got Troy and I registered as Den Leaders for J's Tiger den :-o Then J&I went to the scout store to get our uniforms and saw two hot air balloons. Our uniforms are nice, J's is blue, mine is brown. On the way home we saw the blimp over the horseshoe. We made it home with time to model our new duds for LD&G before kickoff.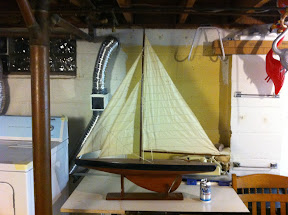 All downstairs to watch the Buckeyes. The first half was horrible so I decided to clean out basement. Anybody want a sailboat?
Well the Bucks pulled off a good second half and won it and my basement is clean. L ran out and got us pizza for dinner. Then I played the Wii with J&G until bed time. I was to play poker but my friend was sick so no game tonight. L&I watching college ball relaxing.
101112 - Up for an early morning call. I ran G to sitter as L had more teacher conferences today. More calls all morning. Ran out to Saddle Run to get the gas turned on. Back to desk and finished a PMP class. After work the boys and I headed to the bank, steak and shake and office store, L went out with the girls. We dropped J off at bday party and DG&I loaded D's iPod touch with music. G&I ran to pick up J and then back home and played Wii. Got jammies on and we all stayed up late watching an old army movie. L home late, but only minutes after I got the boys to bed :-o